Underground Burgundy Patent Wulfrun Double Sole Wedge Boots - ASOS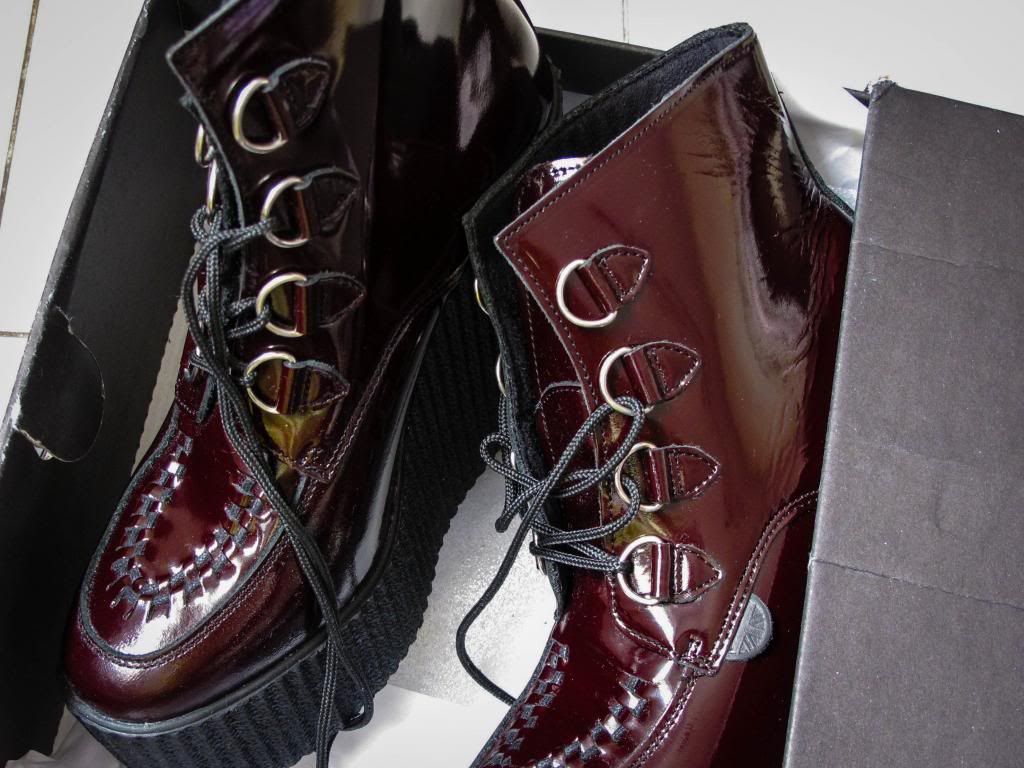 Woohoo! I am more than delighted to finally own a pair of authentic Underground shoes. I have been wishing for a pair for the longest time, ever since I was in my early teens, idolizing heavy metal singers like Marilyn Manson and electro rock duo Helalyn Flowers. It seemed like all rockers owned a pair of creepers and tartan chained jeans and so I wanted one too. Marilyn Manson always wore his ridiculous (yet smashing) 6-inch creepers on stage. In the past when online shopping wasn't as convenient, brands like Underground and TUK were almost inaccessible unless you had relatives who lived in Europe. I have also gone to the extent of purchasing knock off versions *guilty* from TB but honestly, the quality is nothing close to the real deal. In case you're wondering, the knock offs cost me SGD $20+. They are now tucked in a corner, moldy and gross, rarely worn.
ASOS
is my favourite online store in the entire World Wide Web. Even better now that they carry selected Undergound shoes! Not to mention, ASOS's free international shipping policy makes everything almost irresistible. Guess how much I purchased these creepers for? SGD$89.04, on sale! I consider this a fantastic deal bearing in mind it's made out of real leather, except the platform.
Sizing wise, I recommend buying one UK size down. Underground shoes run big. I have asked three friends who own Underground shoes and they agree with me. In my case, I normally wear a EUR 39/ UK 6/ US 8.5, and so I opted UK5 for my creepers. My creepers fits me snugly with enough space for thick winter socks! Buy one size down, unless you have wide feet.